品牌
elementary 品牌的独立之处在于:严格意义上它隶属于 elementary 公司,该公司指导并支持 elementary 产品的研发。但同时我们也依附于社区,我们不愿在法律要求和技术细节上过于专横。因此,我们撰写了下列细则,使大家更容易理解何时以及如何使用 elementary 品牌。
公司与产品名称
elementary 这个单词归属于 elementary, Inc. 并用于代指此公司。即使放在句首,该单词必须保持小写。它也用于代指来自 elementary, Inc. 的产品,如 elementary OS。
elementart, Inc. 的主要产品是 elementary OS。为保证清晰度,elementary OS 不应该简写成"elementary"或其他缩写。
品牌商标
elementary, Inc. claims two marks: the "elementary" logotype and the "e" logomark. Both are considered trademarks and represent elementary, Inc.
注意,在使用这两个商标时,需要记住以下几点:
请不要拉伸,扭曲,旋转或以任何方式改变这些商标。

请不要再过于复杂的背景上使用这些商标;纯色使用效果最佳。

这些商标必须保持纯色;如背景为深色则显示白色,背景为亮色即显示黑色。
文字商标

The logotype is to be used when space allows to refer to elementary, Inc., or it can be used before a product name to refer to a specific product of elementary, Inc.
此商标的使用需要遵循以下规则:
请不要尝试重制 Logo。这是一个艺术体商标,不是普通的、使用特定字体的"elementary"单词。

不要使用小尺寸的商标;如果不够清晰,请用此 Logo 代替。
图形商标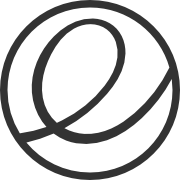 The "e" logomark is to be used to refer to elementary, Inc. when space is constrained or a square ratio is required.
颜色
We employ the use of color combined with our name and marks to establish our brand. We use the following palette:
字体
For web and print, we use Inter for headings and body copy. For code blocks, we use Roboto Mono.
硬件制造商
As long as our software carries the elementary branding, the experience must be consistent—whether the OS was downloaded from our website or pre-installed on a hardware product.
The software components of elementary OS may be modified and redistributed according to the open source terms of the software's licensing; however, the above branding and trademarks may only be redistributed under one or more of the following conditions:
The software remains substantially unchanged; including default apps, stylesheet and iconography, etc., or

Software modifications are approved by elementary, Inc.
Drivers and hardware enablement are of course acceptable. We understand that distributor branding (i.e. default wallpapers) can be important for distributors, so these modifications will typically be approved. If in doubt, email [email protected] for clarification or direction.
If you're unable or unwilling to follow the elementary, Inc. trademark redistribution terms, removing our trademarks from the OS is simple and straightforward:
修改文件 /etc/lsb-release 中的 DISTRIB_DESCRIPTION 行以去除我们的商标。

替换不出现在系统中的图标,如 /usr/share/icons/elementary/places/ 路径下各尺寸的 distributor-logo 图标。

Remove or replace the packages plymouth-theme-elementary and plymouth-theme-elementary-text.
For more information about OEMs and hardware distributors, see our information for OEMs.
商品
We do not authorize our branding (including our name or brand marks) to be used on third-party merchandise without explicit written approval.