Marca
A marca elementary é única: tecnicamente pertence à elementary, Inc., a empresa que orienta e apoia o desenvolvimento dos produtos elementary. No entanto, temos uma óptima comunidade e não queremos ser muito arrogantes com requisitos legais e técnicos. Assim sendo, escrevemos algumas directrizes para facilitar a compreensão de quando e como a marca elementary deve ser usada.
Company and Product Names
The word elementary is a trademark of elementary, Inc. to refer to the company itself. It is always lower-case, even when beginning sentences. It may also be used along with product names (i.e. "elementary OS") to refer to a specific product of elementary, Inc.
The primary product of elementary, Inc. is elementary OS. For clarity, elementary OS should never be shortened to "elementary" or any abbreviation.
Elementos da Marca
elementary, Inc. claims two marks: the "elementary" logotype and the "e" logomark. Both are considered trademarks and represent elementary, Inc.
Ambos devem ser usados tendo por base:
Não estique, rode, inverta ou altere os logótipos.

Não sobreponha os logótipos em fundos muito complexos: as cores sólidas funcionam melhor.

Os elementos da marca devem ser sempre monocromáticos; tipicamente brancos sobre fundo escuro, ou pretos sobre fundos claros.
Logotipo

The logotype is to be used when space allows to refer to elementary, Inc., or it can be used before a product name to refer to a specific product of elementary, Inc.
O logótipo deve ser usado seguindo sempre as seguintes regras:
Do not attempt to recreate the logotype. It is a meticulously-designed brand mark, not simply "elementary" written in a specific font.

Não use este logótipo com uma dimensão reduzida; se não for perceptível use antes o outro elemento da marca.
Logomarca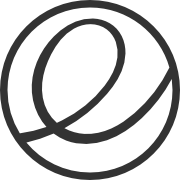 The "e" logomark is to be used to refer to elementary, Inc. when space is constrained or a square ratio is required.
Cor
We employ the use of color combined with our name and marks to establish our brand. We use the following palette:
Pastilha elástica 100
fe9ab8
Pastilha elástica 300
f4679d
Pastilha elástica 500
de3e80
Pastilha elástica 700
bc245d
Pastilha elástica 900
910e38
Fontes
Para a web e impressão, nós usamos a Raleway para cabeçalhos e Open Sans para o corpo. Para blocos de código, nós usamos Roboto Mono.
Distribuidores de Hardware
As long as our software carries the elementary branding, the experience must be consistent—whether the OS was downloaded from our website or pre-installed on a hardware product.
The software components of elementary OS may be modified and redistributed according to the open source terms of the software's licensing; however, the above branding and trademarks may only be redistributed under one or more of the following conditions:
The software remains substantially unchanged; including default apps, stylesheet and iconography, etc., or

Software modifications are approved by elementary, Inc.
Drivers and hardware enablement are of course acceptable. We understand that distributor branding (i.e. default wallpapers) can be important for distributors, so these modifications will typically be approved. If in doubt, email [email protected] for clarification or direction.
If you're unable or unwilling to follow the elementary, Inc. trademark redistribution terms, removing our trademarks from the OS is simple and straightforward:
Modifique a linha DISTRIB_DESCRIPTION no ficheiro /etc/lsb-release para excluir a nossa marca comercial.

Substitua a iconografia como o ícone distributor-logo presente no /usr/share/icons/elementary/places/ em cada lugar que o tamanho provido não apareça no SO.

Remove or replace the packages plymouth-theme-elementary and plymouth-theme-elementary-text.
For more information about OEMs and hardware distributors, see our information for OEMs.
Mercadorias
We do not authorize our branding (including our name or brand marks) to be used on third-party merchandise without explicit written approval.