Varemerke
Varemerket til elementary er unikt: Teknisk sett tilhører det elementary, Inc. selskapet som leder og støtter utviklingen av elementary-produkter. Vi har et flott fellesskap, og ønsker ikke å vøre overbærende med juridiske krav og tekniske aspekter. Som sådan har vi skrevet noen retningslinjer for å gjøre det enklere å forstå når og hvordan det skal brukes.
Company and Product Names
The word elementary is a trademark of elementary, Inc. to refer to the company itself. It is always lower-case, even when beginning sentences. It may also be used along with product names (i.e. "elementary OS") to refer to a specific product of elementary, Inc.
The primary product of elementary, Inc. is elementary OS. For clarity, elementary OS should never be shortened to "elementary" or any abbreviation.
Varemerker
elementary, Inc. claims two marks: the "elementary" logotype and the "e" logomark. Both are considered trademarks and represent elementary, Inc.
Begge bør brukes med følgende i tankene:
Ikke strekk, forskyv, roter, vend eller på annen måte endre merkene.

Ikke bruk varemerkene sammen med en altfor travel bakgrunn, heldekkende farger passer best.

Merkene skal alltid være monokrome; typisk hvit hvis de figurerer på mørk bakgrunn, eller svart hvis på lys bakgrunn.
Logotekst

The logotype is to be used when space allows to refer to elementary, Inc., or it can be used before a product name to refer to a specific product of elementary, Inc.
Logotypen skal alltid brukes etter de følgende retningslinjene:
Do not attempt to recreate the logotype. It is a meticulously-designed brand mark, not simply "elementary" written in a specific font.

Ikke bruk logotypen i små størrelses; dersom det ikke er tydelig bruker du heller logomerket.
Logomerke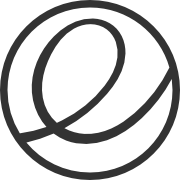 The "e" logomark is to be used to refer to elementary, Inc. when space is constrained or a square ratio is required.
Farge
We employ the use of color combined with our name and marks to establish our brand. We use the following palette:
Skrifter
For web and print, we use Inter for headings and body copy. For code blocks, we use Roboto Mono.
Maskinvaredistributører
As long as our software carries the elementary branding, the experience must be consistent—whether the OS was downloaded from our website or pre-installed on a hardware product.
The software components of elementary OS may be modified and redistributed according to the open source terms of the software's licensing; however, the above branding and trademarks may only be redistributed under one or more of the following conditions:
The software remains substantially unchanged; including default apps, stylesheet and iconography, etc., or

Software modifications are approved by elementary, Inc.
Drivers and hardware enablement are of course acceptable. We understand that distributor branding (i.e. default wallpapers) can be important for distributors, so these modifications will typically be approved. If in doubt, email [email protected] for clarification or direction.
If you're unable or unwilling to follow the elementary, Inc. trademark redistribution terms, removing our trademarks from the OS is simple and straightforward:
Endre DISTRIB_DESCRIPTION-linja i fila /etc/lsb-release for å ekskludere våre varemerker.

Erstatt ikonene, slik at ikonet distributor-logo som finnes i /usr/share/icons/elementary/places/ i hver av størrelsene som forefinnes, slik at de ikke opptrer i OS-et.

Remove or replace the packages plymouth-theme-elementary and plymouth-theme-elementary-text.
For more information about OEMs and hardware distributors, see our information for OEMs.
Effekter
We do not authorize our branding (including our name or brand marks) to be used on third-party merchandise without explicit written approval.