Varemerke
Varemerket til elementary er unikt: teknisk sett tilhører det elementary LLC., selskapet som tilrettelegger og støtter utviklingen av elementary-produkter. På en annen side, vi har et godt fellesskap og vil ikke være for overveldende med rettslige krav og detaljer. Derfor har vi utformet noen retningslinjer for å gjøre det enklere å forstå hvor og hvordan elementary sitt varmerke burde bli brukt.
Navn
Ordet «elementary» refererer til og er et varemerke for elementary LLC. elementary er alltid skrevet med små bokstaver, selv når du begynner setninger som dette. Det er også brukt sammen med produktnavn (dvs. «elementary OS») for å henvise til et spesifikt produkt av elementary.
Varemerker
elementary eier de to varemerkene: «elementary»-logoen og «e»-logoen. Begge regnes som varemerker og representerer selskapet elementary og dets produkter.
Begge bør brukes med følgende i tankene:
Ikke strekk, forskyv, roter, vend eller på annen måte endre merkene.
Ikke bruk varemerkene sammen med en altfor travel bakgrunn, heldekkende farger passer best.
Merkene skal alltid være monokrome; typisk hvit hvis de figurerer på mørk bakgrunn, eller svart hvis på lys bakgrunn.
Logotype

The logotype is to be used when space allows to refer to elementary the company. It can be used before a product name to refer to a specific product of elementary.
The logotype should always be used under the following guidelines:
Do not attempt to recreate the logotype. It is a meticulously-designed brand mark, not simply "elementary" written in a specific font.
Do not use the logotype at small sizes; if it is not clear, use the logomark instead.
Logomark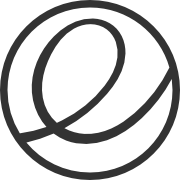 «e»-logoen anvendes for å henvise til selskapet elementary når det er begrenset med plass eller om fire like store sider kreves.
Farge
elementary employs the use of color combined with our name and marks to establish our brand. We use the following palette:
Blåbær

3892e0
jordbær

da4d45
Appelsin

f37329
Banan

fbd25d
Lime

93d844
Drue

8a4ebf
Hvit

ffffff
Svart

333333
Skrifter
På nett og papir benytter vi Raleway for overskrifter og Open Sans for all øvrig hovedtekst. For kodeblokker benytter vi Roboto Mono.
Effekter
We do not typically allow our branding (including our name or brand marks) to be used on third-party merchandise.
Assets & More Info
Last ned på GitHub
For further information regarding the use of the elementary name, branding, and trademarks, please email brand@elementary.io.