Marca
La marca elementary es única: técnicamente pertenece a elementary, Inc., la compañía que guía y apoya el desarrollo de productos elementary. Sin embargo, tenemos una gran comunidad y no queremos ser demasiado exigentes con los requisitos legales y tecnicismos. Como tal, hemos escrito algunas pautas para que sea más fácil entender cuándo y cómo se debe usar la marca elementary.
Company and Product Names
The word elementary is a trademark of elementary, Inc. to refer to the company itself. It is always lower-case, even when beginning sentences. It may also be used along with product names (i.e. "elementary OS") to refer to a specific product of elementary, Inc.
The primary product of elementary, Inc. is elementary OS. For clarity, elementary OS should never be shortened to "elementary" or any abbreviation.
Marcas comerciales
elementary, Inc. claims two marks: the "elementary" logotype and the "e" logomark. Both are considered trademarks and represent elementary, Inc.
Tome en cuenta los criterios siguientes antes de utilizar ambas marcas:
No ensanche, incline, gire, voltee ni modifique de ninguna otra manera las marcas.

No utilice las marcas en fondos complicados: los colores sólidos funcionan mejor.

Las marcas deben ser siempre monocromáticas, ya sea blancas si se aplican sobre un fondo oscuro o negras si el fondo es claro.
Logotipo

The logotype is to be used when space allows to refer to elementary, Inc., or it can be used before a product name to refer to a specific product of elementary, Inc.
El logotipo debe utilizarse en todo momento según las pautas siguientes:
Do not attempt to recreate the logotype. It is a meticulously-designed brand mark, not simply "elementary" written in a specific font.

No utilice el logotipo en lugares pequeños; si el resultado no es claro, prefiera el isotipo.
Isotipo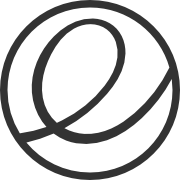 The "e" logomark is to be used to refer to elementary, Inc. when space is constrained or a square ratio is required.
Colores
We employ the use of color combined with our name and marks to establish our brand. We use the following palette:
Tipos de letra
For web and print, we use Inter for headings and body copy. For code blocks, we use Roboto Mono.
Distribuidores de hardware
As long as our software carries the elementary branding, the experience must be consistent—whether the OS was downloaded from our website or pre-installed on a hardware product.
The software components of elementary OS may be modified and redistributed according to the open source terms of the software's licensing; however, the above branding and trademarks may only be redistributed under one or more of the following conditions:
The software remains substantially unchanged; including default apps, stylesheet and iconography, etc., or

Software modifications are approved by elementary, Inc.
Drivers and hardware enablement are of course acceptable. We understand that distributor branding (i.e. default wallpapers) can be important for distributors, so these modifications will typically be approved. If in doubt, email [email protected] for clarification or direction.
If you're unable or unwilling to follow the elementary, Inc. trademark redistribution terms, removing our trademarks from the OS is simple and straightforward:
Modifique la línea DISTRIB_DESCRIPTION en el archivo /etc/lsb-release para excluir nuestra marca comercial.

Reemplace los iconos de tal manera que el icono distributor-logo presente en /usr/share/icons/elementary/places/ en cada uno de sus diferentes tamaños no aparece en el SO.

Remove or replace the packages plymouth-theme-elementary and plymouth-theme-elementary-text.
For more information about OEMs and hardware distributors, see our information for OEMs.
Mercancía
We do not authorize our branding (including our name or brand marks) to be used on third-party merchandise without explicit written approval.
Recursos y más información
Descargar en GitHub
Para obtener mayores informes acerca de la utilización del nombre y las marcas de elementary, envíe un mensaje en inglés a la dirección electrónica [email protected].