Prekės ženklas
elementary prekės ženklas yra unikalus: techniškai jis priklauso elementary, Inc., kompanijai kuri vadovauja ir palaiko elementary produktų kūrimą. Vis dėlto, mes turime puikią bendruomenę ir nenorime būti pernelyg valdingi, kas liečia teisinių reikalavimų ir techninių aspektų. Štai kodėl mes sukūrėme tam tikras gaires, kad būtų lengviau suprasti kada ir kaip turėtų būti naudojamas elementary prekės ženklas.
Company and Product Names
The word elementary is a trademark of elementary, Inc. to refer to the company itself. It is always lower-case, even when beginning sentences. It may also be used along with product names (i.e. "elementary OS") to refer to a specific product of elementary, Inc.
The primary product of elementary, Inc. is elementary OS. For clarity, elementary OS should never be shortened to "elementary" or any abbreviation.
Prekės ženklai
elementary, Inc. claims two marks: the "elementary" logotype and the "e" logomark. Both are considered trademarks and represent elementary, Inc.
Abu turėtų būti naudojami turint omenyje šiuos dalykus:
Neištempti, nenaudoti asimetriškai, nepasukti, neapversti ir niekaip kitaip nekeisti ženklų.

Nenaudoti ženklų pernelyg užkrautame fone; vientisos spalvos yra geriausias pasirinkimas.

Ženklai visada turėtų būti vienspalviai; įprastai, balti tamsiame fone arba juodi šviesiame fone.
Logotipas

The logotype is to be used when space allows to refer to elementary, Inc., or it can be used before a product name to refer to a specific product of elementary, Inc.
Logotipas turėtų būti visada naudojamas pagal šias gaires:
Do not attempt to recreate the logotype. It is a meticulously-designed brand mark, not simply "elementary" written in a specific font.

Nenaudoti logotipo mažu dydžiu; jeigu jis neaiškus, vietoj jo, naudokite logotipo ženklą.
Logotipo ženklas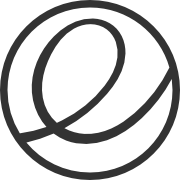 The "e" logomark is to be used to refer to elementary, Inc. when space is constrained or a square ratio is required.
Spalva
We employ the use of color combined with our name and marks to establish our brand. We use the following palette:
Žalioji citrina 100
d1ff82
Žalioji citrina 300
9bdb4d
Žalioji citrina 500
68b723
Žalioji citrina 700
3a9104
Žalioji citrina 900
206b00
Šriftai
For web and print, we use Inter for headings and body copy. For code blocks, we use Roboto Mono.
Aparatinės įrangos platintojai
As long as our software carries the elementary branding, the experience must be consistent—whether the OS was downloaded from our website or pre-installed on a hardware product.
The software components of elementary OS may be modified and redistributed according to the open source terms of the software's licensing; however, the above branding and trademarks may only be redistributed under one or more of the following conditions:
The software remains substantially unchanged; including default apps, stylesheet and iconography, etc., or

Software modifications are approved by elementary, Inc.
Drivers and hardware enablement are of course acceptable. We understand that distributor branding (i.e. default wallpapers) can be important for distributors, so these modifications will typically be approved. If in doubt, email [email protected] for clarification or direction.
If you're unable or unwilling to follow the elementary, Inc. trademark redistribution terms, removing our trademarks from the OS is simple and straightforward:
Modifikuokite DISTRIB_DESCRIPTION eilute, faile /etc/lsb-release norėdami pašalinti mūsų prekės ženklus.

Pakeiskite piktogramas, kad tokiu būdu piktograma distributor-logo, kuri yra kataloge /usr/share/icons/elementary/places/ kiekvienu pateiktu dydžiu nebūtų rodoma operacinėje sistemoje.

Remove or replace the packages plymouth-theme-elementary and plymouth-theme-elementary-text.
For more information about OEMs and hardware distributors, see our information for OEMs.
Prekiavimas
We do not authorize our branding (including our name or brand marks) to be used on third-party merchandise without explicit written approval.