Markenzeichen
The elementary brand is unique: technically it belongs to elementary, Inc., the company that guides and supports development of elementary products. However, we have a great community and don't want to be too overbearing with legal requirements and technicalities. As such, we have written up some guidelines to make it easier to understand when and how the elementary brand should be used.
Company and Product Names
The word elementary is a trademark of elementary, Inc. to refer to the company itself. It is always lower-case, even when beginning sentences. It may also be used along with product names (i.e. "elementary OS") to refer to a specific product of elementary, Inc.
The primary product of elementary, Inc. is elementary OS. For clarity, elementary OS should never be shortened to "elementary" or any abbreviation.
Markenzeichen
elementary, Inc. claims two marks: the "elementary" logotype and the "e" logomark. Both are considered trademarks and represent elementary, Inc.
Bei der Benutzung von Beiden sollte Folgendes beachtet werden:
Die Logos dürfen weder gestreckt, gedreht, gespiegelt oder anderweitig verändert werden.

Die Logos sollten nicht auf einem ungleichen Hintergrund verwendet werden; einfarbige Hintergründe funktionieren am besten.

Die Logos sollten immer monochromatisch sein; normalerweise weiß auf dunklem Hintergrund oder aber auch schwarz auf hellem Hintergrund.
Schriftzug

The logotype is to be used when space allows to refer to elementary, Inc., or it can be used before a product name to refer to a specific product of elementary, Inc.
Die Wort-Bild-Marke sollte immer nach den folgenden Richtlinien verwendet werden:
Do not attempt to recreate the logotype. It is a meticulously-designed brand mark, not simply "elementary" written in a specific font.

Benutze den Logo-Schriftzug nicht in kleinen Darstellungen; wenn er nicht klar erkennbar ist, benutze stattdessen die Bildmarke.
Bildmarke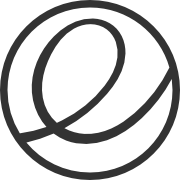 The "e" logomark is to be used to refer to elementary, Inc. when space is constrained or a square ratio is required.
Farbe
We employ the use of color combined with our name and marks to establish our brand. We use the following palette:
Schriftarten
For web and print, we use Inter for headings and body copy. For code blocks, we use Roboto Mono.
Hardware-Händler
As long as our software carries the elementary branding, the experience must be consistent—whether the OS was downloaded from our website or pre-installed on a hardware product.
The software components of elementary OS may be modified and redistributed according to the open source terms of the software's licensing; however, the above branding and trademarks may only be redistributed under one or more of the following conditions:
The software remains substantially unchanged; including default apps, stylesheet and iconography, etc., or

Software modifications are approved by elementary, Inc.
Drivers and hardware enablement are of course acceptable. We understand that distributor branding (i.e. default wallpapers) can be important for distributors, so these modifications will typically be approved. If in doubt, email [email protected] for clarification or direction.
If you're unable or unwilling to follow the elementary, Inc. trademark redistribution terms, removing our trademarks from the OS is simple and straightforward:
Um unsere Markennamen zu entfernen, kann die Zeile DISTRIB_DESCRIPTION in der Datei /etc/lsb-release modifiziert werden.

Ersetzen Sie die Symbole so, dass das Symbol distributor-logo, das in /usr/share/icons/elementary/places/ in jeder der angegebenen Größen vorhanden ist, nicht im Betriebssystem erscheint.

Remove or replace the packages plymouth-theme-elementary and plymouth-theme-elementary-text.
For more information about OEMs and hardware distributors, see our information for OEMs.
Markenartikel
We do not authorize our branding (including our name or brand marks) to be used on third-party merchandise without explicit written approval.
Anlagen & weitere Informationen
Bei GitHub herunterladen
Für weitere Informationen in Bezug auf den Namen elementary, der Marke und den dazugehörigen Markenzeichen, nehmen Sie bitte mit [email protected] Kontakt auf.