Tuotemerkki
elementary-tuotemerkki on ainutlaatuinen: tarkkaan ottaen se kuuluu elementary LLC:lle; yritykselle, joka ohjaa ja tukee elementary-tuotteiden kehitystä. Meillä on kuitenkin hyvä yhteisö, emmekä halua olla liian määräileviä laillisilla vaatimuksilla. Olemme kirjoittaneet muutamia suosituksia helpottaaksemme ihmisiä ymmärtämään, milloin ja miten elementary-merkkiä pitää käyttää.
Nimi
Sana "elementary" viittaa itse yritykseen ja on elementary LLC:n tuotemerkki. elementary kirjoitetaan aina pienaakkosilla, jopa lauseen alussa. Sitä käytetään myös osana tuotteiden nimiä (kuten "elementary OS"), jolloin viitataan tiettyyn elementaryn tuotteeseen.
Tuotemerkit
elementary owns two marks: the "elementary" logotype and the "e" logomark. Both are considered trademarks and represent elementary—the company—and its products.
Kumpaakin tulee käyttää seuraavat asiat huomioiden:
Älä venytä, aseta viistoon, käännä, peilaa tai muuten muuta merkkejä.
Älä käytä merkkejä sekavalla taustalla. Yksiväriset taustat soveltuvat parhaiten käyttöön.
Merkkien tulee olla aina yksivärisiä; tyypillisesti valkoisia tummalla taustalla, tummia vaalealla taustalla.
Logotyyppi

The logotype is to be used when space allows to refer to elementary the company. It can be used before a product name to refer to a specific product of elementary.
The logotype should always be used under the following guidelines:
Do not attempt to recreate the logotype. It is a meticulously-designed brand mark, not simply "elementary" written in a specific font.
Do not use the logotype at small sizes; if it is not clear, use the logomark instead.
Logomark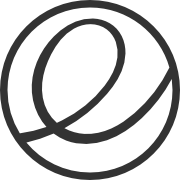 The "e" logomark is to be used to refer to elementary the company when space is constrained or a square ratio is required.
Väri
elementary käyttää värejä nimen kanssa, jolloin syntyy osa brändiä. Käytämme seuraavaa väripalettia:
Fontit
Verkossa ja painotuotteissa käytämme Raleway-fonttia otsikoissa ja Open Sansia leipätekstissä. Koodimerkinnöissä käytämme Roboto Monoa.
Laitteistojakelijat
We want to ensure that as long as our software carries the elementary branding, the experience will be consistent whether it was downloaded from our website or pre-installed on a hardware product.
The software components of elementary OS may be modified and redistributed according to the terms of the software's licensing. However, our brand marks may only be redistributed under one or more of the following conditions:
The software remains unchanged, including pre-installed applications, stylesheets and iconography, configuration files, etc., or
The modifications are approved in writing by elementary.
We understand that including drivers, hardware enablement, and distributor branding is important for distributors, so these modifications will almost always be approved by elementary. If in doubt, please email [email protected] for clarification or direction.
If you're unable or unwilling to follow these trademark redistribution terms, removing elementary's trademarks from the OS should be simple and straightforward:
Modify the DISTRIB_DESCRIPTION line in the file /etc/lsb-release to exclude our trademarks.
Replace the iconography such that the icon distributor-logo present in /usr/share/icons/elementary/places/ in each of the provided sizes does not appear in the OS.
Remove the packages plymouth-theme-elementary and plymouth-theme-elementary-text.
Myytävät tavarat
We do not typically allow our branding (including our name or brand marks) to be used on third-party merchandise.
Assets & More Info
Lataa GitHubista
For further information regarding the use of the elementary name, branding, and trademarks, please email [email protected].