Marca
The elementary brand is unique: technically it belongs to elementary, Inc., the company that guides and supports development of elementary products. However, we have a great community and don't want to be too overbearing with legal requirements and technicalities. As such, we have written up some guidelines to make it easier to understand when and how the elementary brand should be used.
Nome
The word "elementary" refers to and is a trademark of elementary, Inc. elementary is always lower-case, even when beginning sentences such as this. It is also used along with product names (i.e. "elementary OS") to refer to a specific product of elementary.
Elementos da Marca
A elementary é proprietária dos dois elementos visuais: o logotipo "elementary" e o logotipo "e". Ambos são considerados marca registada e representantes da elementary- a empresa- e os seus produtos.
Ambos devem ser usados tendo por base:
Não estique, rode, inverta ou promova qualquer outra alteração nos logotipos.
Não sobreponha os logotipos em fundos muito complexos: devem ser aplicados sobre cores sólidas.
Os elementos da marca são monocromáticos. Tipicamente brancos sobre fundo escuro, ou pretos sobre fundos claros.
Logotipo

Este Logotipo deve ser usado sempre que haja espaço e sempre em referência à empresa. Pode ser usado antes de um nome de produto para se referir a um produto específico da elementary.
Este logotipo deve ser usado seguindo as seguintes regras:
Não tente reconstruir o logotipo. É um elemento desenhado meticulosamente, uma marca e não um simples "elementary" escrito num tipo de letra específico.
Não use este logotipo com uma dimensão reduzida; em caso de dúvida use o outro elemento da marca.
Logotipo "e"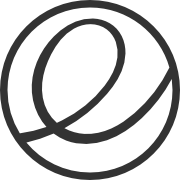 A marca registada "e" deve ser usada em referência a empresa quando existem restrições de espaço ou sempre que se pretende ocupar um espaço quadrado.
Cor
A elementary usa a cor combinada com o nome e logotipos para estabelecer a sua presença. Para tal usamos a seguinte palete:
Tipos de letra
Para a internet e para imprimir usamos o tipo de letra Raleway para os cabeçalhos e Open Sans para os conteúdos no corpo. Para código usamos o Roboto Mono.
Distribuidores de Hardware
We want to ensure that as long as our software carries the elementary branding, the experience will be consistent whether it was downloaded from our website or pre-installed on a hardware product.
The software components of elementary OS may be modified and redistributed according to the terms of the software's licensing. However, our brand marks may only be redistributed under one or more of the following conditions:
The software remains unchanged, including pre-installed applications, stylesheets and iconography, configuration files, etc., or
As alterações são aprovadas por escrito pelo elementary.
We understand that including drivers, hardware enablement, and distributor branding is important for distributors, so these modifications will almost always be approved by elementary. If in doubt, please email [email protected] for clarification or direction.
If you're unable or unwilling to follow these trademark redistribution terms, removing elementary's trademarks from the OS should be simple and straightforward:
Modify the DISTRIB_DESCRIPTION line in the file /etc/lsb-release to exclude our trademarks.
Replace the iconography such that the icon distributor-logo present in /usr/share/icons/elementary/places/ in each of the provided sizes does not appear in the OS.
Remove the packages plymouth-theme-elementary and plymouth-theme-elementary-text.
Merchandise
Normalmente não autorizamos que as nossas marcas (nome ou logotipos) sejam usados em merchandising de terceiros.
Assets & More Info
Descarrega do GitHub
Para mais informação sobre a utilização do nome elementary, elementos visuais e marcas registadas contacta-nos por e-mail via [email protected].