Značka
The elementary brand is unique: technically it belongs to elementary, Inc., the company that guides and supports development of elementary products. However, we have a great community and don't want to be too overbearing with legal requirements and technicalities. As such, we have written up some guidelines to make it easier to understand when and how the elementary brand should be used.
Jméno
The word "elementary" refers to and is a trademark of elementary, Inc. elementary is always lower-case, even when beginning sentences such as this. It is also used along with product names (i.e. "elementary OS") to refer to a specific product of elementary.
Obchodní Značky
elementary vlastní dvě značky: logotyp "elementary" a logomark "e". Obě jsou považovány za ochranné známky a reprezentují společnost elementary a její produkty.
Oba by měly být použity s ohledem na následující:
Nezvětšujte, nezšikmujte, neotáčejte, nezrcadlete, či jinak neupravujte ony značky.
Nepoužívejte ony značky na příliš komplikovaných pozadích: solidní barvy fungují nejlépe.
Značky by měly vždy být monochromatické; typicky bílé, pokud jsou na tmavém pozadí, nebo černé, pokud jsou na světlém pozadí.
Logotyp

Onen logotyp by měl být používán pokud je místo na odkazování na společnost elementary. Může být použit před názvem produktu jako reference na specifický produkt elementary.
Zmiňovaný logotyp by měl vždy být používán s následujícími pokyny:
Nesnažte se logotyp přetvářet. Jedná se o pečlivě navrhnutou obchodní značku, ne o pouze "elementary" napsáno specifickým fontem.
Nepoužívejte onen logotyp v malých velikostech; pokud není čitelný, použijte místo něj logomark.
Logomark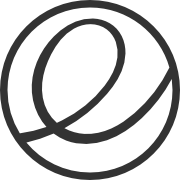 Logomark "e" má být používán jako reference na společnost elementary pokud je nedostatek místa, nebo je vyžadován poměr stran 1:1.
Barva
elementary používá názvy barev zkombinované s naším jménem a značkami pro navázání naší značky. Používáme následující paletu barev:
Písma
Pro web a tisk používáme Raleway pro záhlaví a Open Sans pro tělo. Pro kusy kódu používáme Roboto Mono.
Hardware Distributors
We want to ensure that as long as our software carries the elementary branding, the experience will be consistent whether it was downloaded from our website or pre-installed on a hardware product.
The software components of elementary OS may be modified and redistributed according to the terms of the software's licensing. However, our brand marks may only be redistributed under one or more of the following conditions:
The software remains unchanged, including pre-installed applications, stylesheets and iconography, configuration files, etc., or
The modifications are approved in writing by elementary.
We understand that including drivers, hardware enablement, and distributor branding is important for distributors, so these modifications will almost always be approved by elementary. If in doubt, please email [email protected] for clarification or direction.
If you're unable or unwilling to follow these trademark redistribution terms, removing elementary's trademarks from the OS should be simple and straightforward:
Modify the DISTRIB_DESCRIPTION line in the file /etc/lsb-release to exclude our trademarks.
Replace the iconography such that the icon distributor-logo present in /usr/share/icons/elementary/places/ in each of the provided sizes does not appear in the OS.
Remove the packages plymouth-theme-elementary and plymouth-theme-elementary-text.
Zboží
Typicky nedovolujeme používání našich značek (či našeho jména) na merchandisingu třetích stran.
Assets & More Info
Stáhnout na Githubu
Pro více informací týkajících se používání jmen, značek a ochranných známek elementary, kontaktujte nás prosím emailem na [email protected].