برند
المنتری یک برند یکتا می‌باشد: از لحاظ فنی اشاره می‌کند به شرکت المنتری (با مسئولیت محدود).، که محصولات المنتری را هدایت و پشتیبانی می‌کند. هرچند ما جامعه بزرگی داریم و نمی‌خواهیم با نیازمندی های حقوقی و فنی مغرور بشویم. به خاطر همین، ما خط مشی هایی را برای سهولت و فهم بهتر این‌که کی و چگونه باید از برند المنتری استفاده کرد نوشته‌ایم.
نام
کلمه "elementary" اشاره دارد به علامت ثبت شده‌ی شرکت elementary (با مسئولیت محدود). elementary همیشه با حروف کوچک هست حتی اگر در شروع جمله ای مانند این باشد. همچنین در کنار نام محصولات استفاده می‌شود که اشاره دارد به یک محصول خاص از elementary (مانند "elementary OS").
علائم برند
elementary دو علامت برای خود دارد: یکی "elementary" به عنوان لوگوتایپ و دیگری "e" به عنوان لوگومارک. هر دوی آن‌ها برای شرکت elementary و محصولات‌اش ثبت و در نظرگرفته شده‌اند.
هر دو را این‌گونه در نظر بگیرید:
علامت‌ها را تغییر ندهید مثل کش‌دادن، کج‌کردن، چرخاندن، وارونه کردن و ...
از علامت‌ها در زمینه شلوغ استفاده نکنید؛ تک رنگ‌ها بهتر جواب می‌دهند.
علامت‌ها همیشه باید تک‌رنگ باشد؛ معمولا اگر پس‌زمینه تیره باشد از سفید، و یا مشکی در پس‌زمینه روشن استفاده می‌شود.
لوگو‌تایپ

The logotype is to be used when space allows to refer to elementary the company. It can be used before a product name to refer to a specific product of elementary.
لوگوتایپ همیشه باید تحت دستورالعمل‌های زیر استفاده شود:
برای ساختن دوباره لوگوتایپ تلاش نکنید. این علامت برند به دقت طراحی شده، آسان نیست "elementary" با فونت خاصی نوشته شده.
از لوگو تایپ در سایزهای کوچک استفاده نکنید؛ اگر واضح نیست، می‌توانید از لوگومارک به‌جایش استفاده کنید.
لوگومارک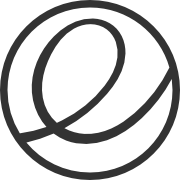 The "e" logomark is to be used to refer to elementary the company when space is constrained or a square ratio is required.
رنگ
elementary employs the use of color combined with our name and marks to establish our brand. We use the following palette:
فونت ها
برای وب و چاپ، ما از فونت Raleway برای سرصفحه‌ها و Open Sans برای بدنه استفاده می‌کنیم. و برای قطعه کدها از فونت Roboto Mono.
Hardware Distributors
We want to ensure that as long as our software carries the elementary branding, the experience will be consistent whether it was downloaded from our website or pre-installed on a hardware product.
The software components of elementary OS may be modified and redistributed according to the terms of the software's licensing. However, our brand marks may only be redistributed under one or more of the following conditions:
The software remains unchanged, including pre-installed applications, stylesheets and iconography, configuration files, etc., or
The modifications are approved in writing by elementary.
We understand that including drivers, hardware enablement, and distributor branding is important for distributors, so these modifications will almost always be approved by elementary. If in doubt, please email [email protected] for clarification or direction.
If you're unable or unwilling to follow these trademark redistribution terms, removing elementary's trademarks from the OS should be simple and straightforward:
Modify the DISTRIB_DESCRIPTION line in the file /etc/lsb-release to exclude our trademarks.
Replace the iconography such that the icon distributor-logo present in /usr/share/icons/elementary/places/ in each of the provided sizes does not appear in the OS.
Remove the packages plymouth-theme-elementary and plymouth-theme-elementary-text.
کالا
We do not typically allow our branding (including our name or brand marks) to be used on third-party merchandise.
Assets & More Info
دانلود در GitHub
For further information regarding the use of the elementary name, branding, and trademarks, please email [email protected].